Use MDW10 for 10% off (Valid till Feb 28th)
We will help your
pets walk again!
Is your dog unable to walk? Would you love to see your dog walk again with all joy? We know you do! We designed this product for all those sweet dogs out there who are unable to walk because of hip and leg problems caused due to degenerative myelopathy (DM), arthritis, hip dysplasia, slipped disc, paralysis, neurological and spinal problems etc.





This has been a great budget friendly option for our pug who suffers from nerve damage which limits mobility in her back legs. She doesn't need to use the feet cradles so I can't speak on that part. Overall a good product to help our baby live a better quality life. Our vet gave it a thumbs up too.
- Sarah Steele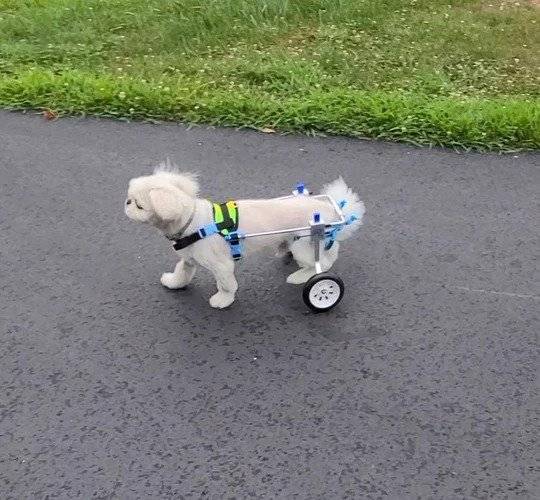 I have a 15yo, 13 lb Pekignese and the xs fits perfectly. Het has weakness in his back and hind legs making it hard/painful to walk. He hated being strapped in the first time, but when he realized this was helping him he zoomed faster than I have seen in a long time! Easy to put together and strap on too. The quality for the price is so worth it.
- Alicia Robertson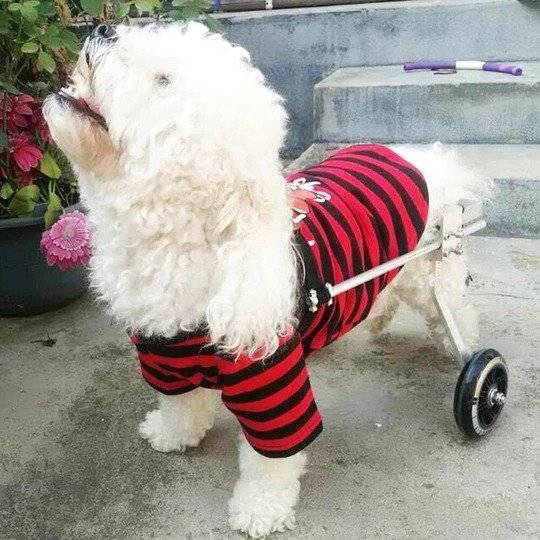 This wheelchair is wonderful. My dog took to it RIGHT AWAY! It's lightweight, easily adjustable, and comes with the little wrench tool you need to put it together (which was also easily and quickly done). For reference, my dog is about 22lbs and 16in tall. He has a condition where his back legs are slowly going paralyzed but he still has use of them, so he just needs a little support.
- Cerys Green
MYDOGWHEELS:
Wheelchairs for Handicapped & Disabled Dogs
Check out these specially crafted wheels for your dogs with back leg problems, injured, disabled or handicapped dog as well. Does your dog have limited mobility, Due to aging, pregnancy, surgery? You can check out these specially designed wheels for them.
These new sets of branded wheelchairs guarantees that your dogs will walk again, run again and even play around like every other normal pet dog. As this wheel promises to make them active and maintain an awesome life.
The wheels are adjustable, it can be folded to fit into a small space, so it won't be a problem having your dog go camping with you. It can be adjusted also to fit different sizes of dog. You can reduce the height, length and width as well.
It is a very good product for your dog back leg as well, it is made of lightweight aluminum, foam wheels coupled with runner treads which is sure to prevent damage on injury on your dog, the wheel is lightweight also to ensure zero hurdle while your dog moves around.
It will help support and make sure that your handicapped or disabled dogs are always well supported to move around and continue living their normal life, in an awesome way. It also eases off all the stress from the rear leg and will also help feet injuries heal.
The wheel parts can be washed, easy to disassemble and assemble after wash. A major benefit of these wheelchairs is that they can be used for a variety of breeds, Rottweiler, Cattle dog, Sheepdog, pit bulls, Bulldog, Labrador, and so on.
So, what are you waiting for? Come give your sad, disabled, handicapped dog some life of its own again.